Things to See & Do
in Barre Vermont
Tour a 600 feet deep granite quarry, watch skilled artisans sculpt granite, sandblast your own souvenir, explore exhibits, and shop for Vermont-made gifts. Open Memorial Day Weekend through mid October.
Completed in 1899 and listed on the National Register of Historical Places, was once considered the finest theater in Vermont. Hosts over100 events a year.
Housed in a beautifully renovated 1890's school building, the Center collects, preserves and makes available to the public a wide variety of library materials documenting the history and people of Vermont. It also offers access to the American Genealogical-Biographical Index database.
Hope Cemetery
Established in 1895, presents a rich and distinguished history of American memorial art. Memorials are crafted from granite by distinguished Barre manufacturers and sculptors. Explore by well-mapped walking tour.
Elmwood Cemetery
The older of Barre's two cemeteries contains a variety of styles in monumental stone design from the very early colonial tablets through the more elaborate designs of the Victorian era to the contemporary art of the twentieth century.
Socialist Labor Party Hall (The Old Labor Hall)
A unique symbol of an important era in American labor and political history. Many important socialists and labor leaders spoke at the Hall including Samuel Gompers, Emma Goldman, Eugene Debs, and Mother Jones. Designated as a National Historic Landmark.
This community library with its beautiful Arts and Crafts interior has been serving Barre since 1908. It houses the Barre Museum, the Archive of Barre History, the Milne Gallery, and the Children's Library.
A three-floor visual arts center offering free exhibitions of a broad range of contemporary artworks by artists from Vermont and beyond. SPA has an active schedule of classes, workshops and lectures throughout the year.
On Main Street, provides a commons for Central Vermont's family farms and the public to exchange food, information, art, and community. Offers a fresh market of Vermont-made and produced natural foods and supplies, a café, locally created arts and crafts, and more.
A four-season touring center with over 300 acres and 70 miles of trails that surround Vermont's historic granite quarries. Enjoy beautiful views while hiking, biking, cross-country skiing, or snowshoeing.
Things to See & Do
in Montpelier Vermont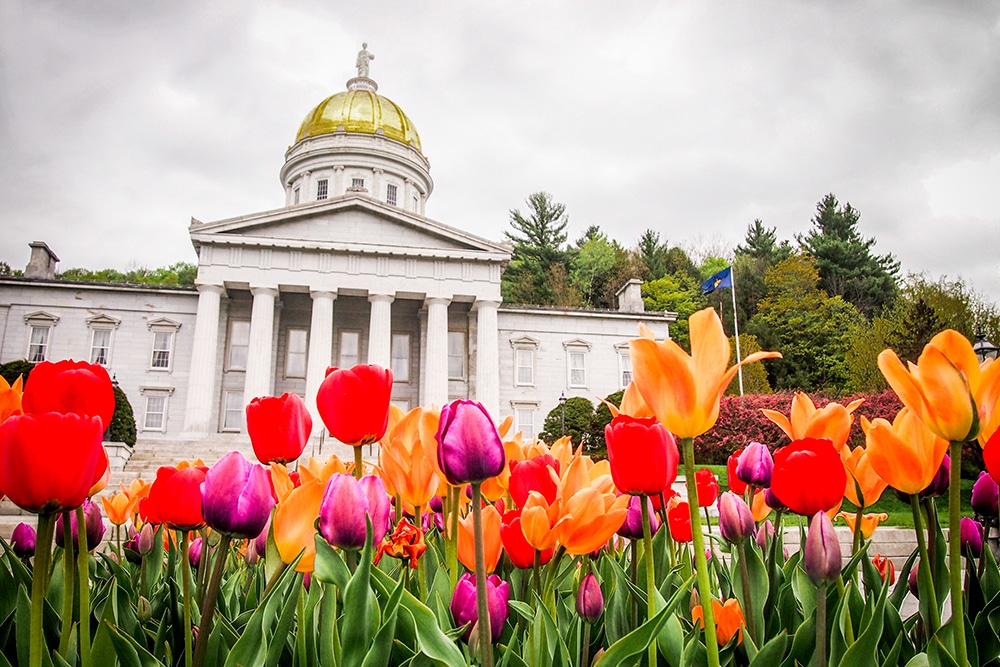 The magnificent Greek Revival building with a gold leaf covered dome topped with a statue of Ceres, the goddess of agriculture, offers a spectacular contrast with the wooded hillside of Hubbard Park in the background. The interior is adorned with marble floors, spiral staircases, and finely carved wood trim. Guided tours available.
Experience the breadth of Vermont history. Sit in a recreated 17th Century Abenaki dwelling, walk into a Revolutionary War era tavern, and tap out a message at a late 19th Century railroad office. Get a sense of Vermont's image and identity over time with the land and its communities.
One of Vermont's premier arts spaces, the gallery and arts center houses the permanent collection of Thomas Waterman Wood, a native of Montpelier and one of the finest portrait and genre painters of the late 19th Century in addition to works of many of his contemporaries. Also featured are American paintings from the Works Progress Administration (WPA), completed during the depression era.
Visit the well-known Culinary Institute's restaurants and bakery in downtown Montpelier and experience their unique "learning by doing" educational philosophy in action. Menus change with the seasons and contain local ingredients from Vermont's farms and fields.
One of the oldest city-owned parks in Vermont. Over 185 acres with a great diversity of plant and tree life. Over 7 miles of hiking and skiing trails, numerous picnic areas, a small pond, a sledding hill, and a 54-foot observation tower with excellent views of the surrounding area.
Year-round nature programs, a Critter Room, and riverside nature trails that connect to Montpelier's extensive park system.
A beautiful late 19th century building, well worth a visit to see the Pantheon frieze in the second-floor stacks, read a magazine in the reading room, or cuddle with a child on the window seat in the children's room.