A seventh-generation maple farm. Take a tour, walk through the maple trees, and visit the Morse Farm Store to taste and purchase the delicious maple products.
A fifth-generation maple sugarhouse. Tour the sugarhouse, walk the nearby woods where over 2,000 buckets are hung, and visit the gift shop with a large selection of Vermont crafts, gifts, and specialty foods.
See how their world famous ice cream is made and learn about the company's unique history. Finish your tour with a free sample of the flavor of the day and visit the full-service gift and scoop shop. Open year round in Waterbury.
The Green Mountain Coffee experience comes alive in Waterbury's beautifully restored, historic train station. Experience a multi-sensory depiction of the coffee bean's long journey from "tree to cup." Relax in the café and shop for a variety of coffee related gifts.
Watch cider making year round at "New England's most famous cider mill." Cider, fudge, and specialty foods including apple and maple products and legendary cider donuts in the large Mill Store.
Enjoy a guided tour that includes an informative video of the history of Cabot Creamery and its award-winning cheddar cheese as well as the agricultural history of Vermont. See Cabot cheese being made and then sample and purchase your favorites.
Six rustic covered bridges located just outside of the village of Northfied, four of which are located in "the Falls" on the northern edge of town.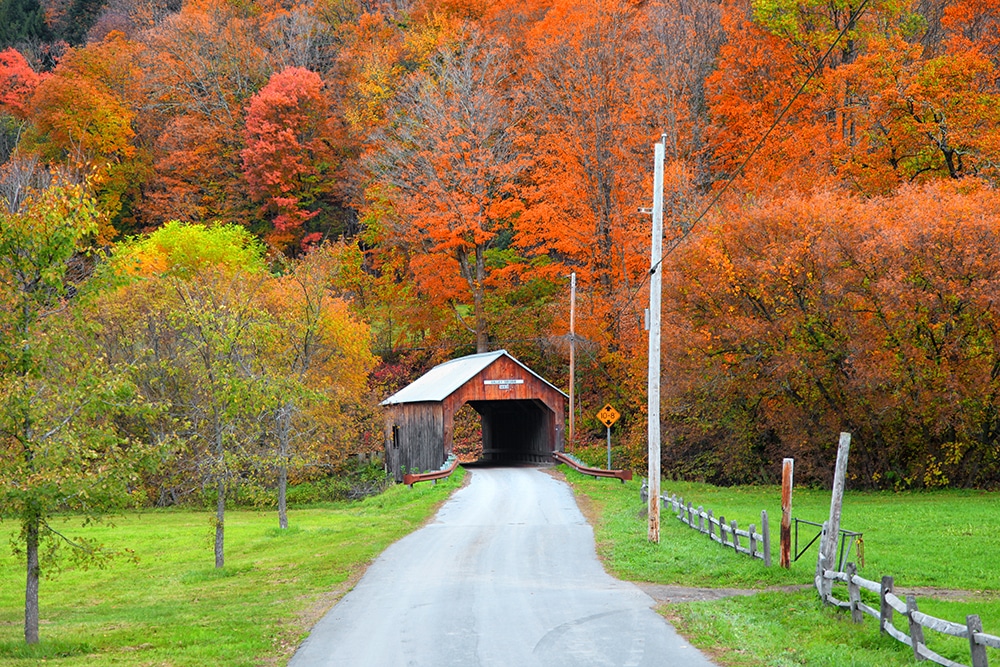 The Baker's Store is packed with everything you'll ever need for baking, from hard-to-find ingredients, innovative gadgets, and top-quality pans, to easy mixes and a huge selection of flour and baking basics. Grab a cup of coffee and a freshly-baked pastry in the café or enjoy a sandwich at the picnic tables overlooking the pond.
Get a behind-the-scenes view of the working factory and see firsthand how the popular Vermont Teddy Bears are created. Browse for gifts and souvenirs in the Bear shop and create your own make a Friend for Life Teddy Bear.
A 1,400 acre working farm, National Historic Landmark, and nonprofit environmental education center on the shores of Lake Champlain. Visitors may enjoy the walking trails, children's farmyard, restaurant, property tours and special events.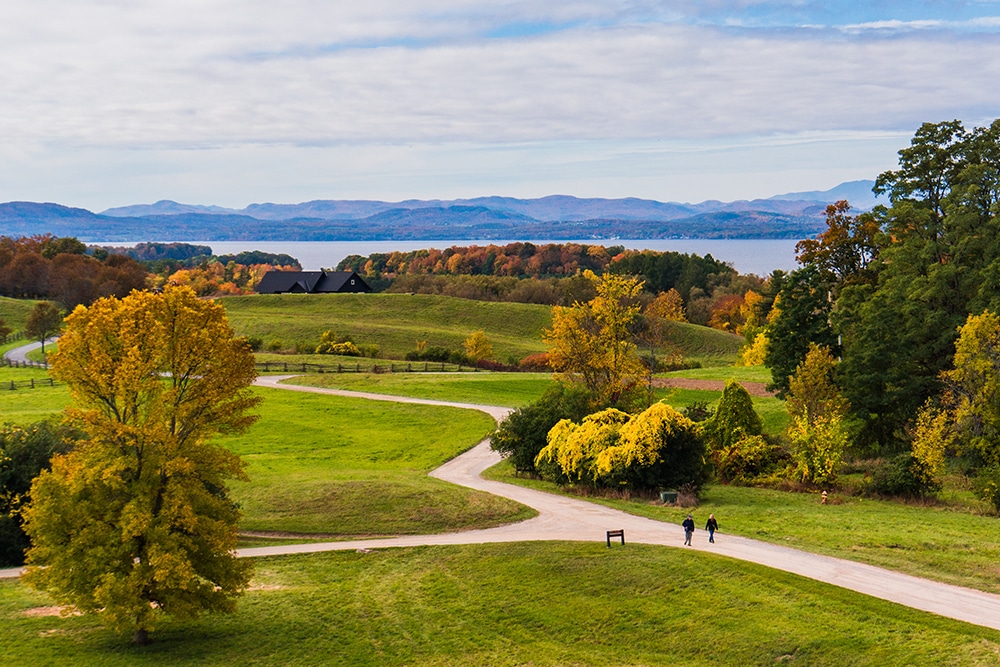 Located in Vermont's scenic Lake Champlain valley, Shelburne Museum is one of the nation's finest, most diverse and unconventional museums of art and Americana. Over 150,000 works are exhibited in a remarkable setting of 39 exhibition buildings, 25 of which are historic and were relocated to the Museum grounds.
Waterbury & Stowe
Right off of Interstate 89, Waterbury is central to Stowe, Montpelier, Burlington and Mad River Valley where ski resorts, popular attractions, and nature's recreational opportunities abound. The quaint village is full of historic buildings, including the old train station still in use today as an Amtrak station. Waterbury is home to some of the country's best known specialty food manufacturers, such as Ben and Jerry's Ice Cream and Green Mountain Coffee Roasters, but the atmosphere is still classic Vermont small town.
Mad River Valley and Sugarbush
The Mad River Valley is home to two of New England's premier ski areas, Mad River Glen and Sugarbush. The Valley is laced with cross-country, snowshoeing, and snowmobiling trails offering miles of uninterrupted travel. In the spring downhill and cross-country ski trails melt into outstanding mountain bike trails. The Mad River is at the center of the Valley offering canoeing, kayaking, fly fishing, and swimming. Horse trips travel our back roads and trails. The Long Trail and local mountains offer breathtaking hikes. The Sugarbush Golf Course, designed by Robert Trent Jones Sr., is spectacularly set against the Green Mountains.
Burlington/Lake Champlain
The Burlington/Lake Champlain area offers dozens of exciting things to do. Burlington's award-winning pedestrian mall, the Church Street Marketplace, is located in the heart of downtown Burlington and a unique blend of shops, boutiques, restaurants, and performers. Burlington offers cosmopolitan flair and stunning lake and mountain beauty. Enjoy kayaking, fishing, sailing and sightseeing cruises on Lake Champlain and hiking and cycling on its shores. Or spend your time enjoying the Burlington's fantastic dining, shopping, concerts and special events.